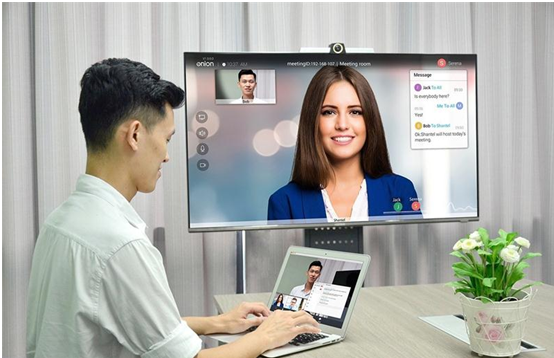 10 Best Skype For Business Alternatives
Skype, the current leading VoIP app, has an interesting option of useful group video calls for family reunions, contact the members of the working group or talk to connected clients anywhere in the world. Now the company also has an enterprise-class video conferencing software Skype for Business. However, Skype for Business is highly-priced that not all companies can afford it, especially for those small business or startups.
As you can see, video conferences and online meetings are so useful and simple to put together with the right tools. Here they are, 10 of the best Skype for Business alternatives:
1. MeetingBurner
An online service without additional downloads that includes integration with Skype, recording audio files for instant sharing, live transmission of the host screen and even statistics to record the interaction of the users present in the chat. It has payment plans and a free one with a limit of 15 users simultaneously.
2. ezTalks Cloud Meeting
This is a free video conferencing tool that is useful for business of any level. ezTalks Cloud Meeting enables you to host an online meeting or webinar with up to 100 participants with no cost, so that companies can save a lot of budget by using it. Besides, the software has a powerful features, such as HD video, audio, free screen sharing, interactive whiteboard, etc.
3. WebEx
Share desktop, audio, video, files, connect through mobiles, work on documents collaboratively or brainstorm with the strokes of each user, among other options. A known in the business world at a cost is $ 19 a month being offered in versions for Windows, Mac, Linux and Solaris.
4. Huddle
It stands out among the rest of the group for its extra options for project management, tools to manage tasks and manage documents with access even from mobile. Except for the trial version, to start using the service you need to contact your creators directly to create a personalized quote.
5. Meetin.gs
For managing meetings: editing documents, sharing options (notes, files), manage schedules, and invite contacts in seconds and more. It integrates seamlessly with Dropbox, Skype, calendar services and social networks (also via mobile). Its promotional video shows how simple and fast its implementation.
6. Fuze Meeting
"Telepresence" is the most promoted as one of its specialties with applications for iPad, Android and BlackBerry. Characterized by the transmission of video (also share screen) and high resolution content, an intuitive interface, recording of each videoconference and the import of contacts through several social networks. His plans start at US $ 29 a month.
7. Twiddla
To meet to work with study partners or the company using a multifunctional whiteboard (shapes, lines, free strokes, images) that also allows sharing documents and communicate via audio or text. An excellent alternative for creating flowcharts or recording all kinds of ideas collaboratively, something so necessary in fields such as graphic design.
8. Facebook Messenger
A feature that the team of Mark Zuckerberg launches weeks after Google put it to work in its social network. It is a new level for social networks by enabling the meeting in real time and not only as chat but with video call options. The advantage is the number of registered users on Facebook and Skype as a pillar of empowerment.
9. TinyChat
Although in general it is a video chat room, the important thing about TinyChat is its integration with social networks (Facebook, Tumblr, and Twitter) to set up an instant conversation with up to 12 people using their webcam and any number of additional users typing. Perfect for interacting, for example, with those who follow our brand via Social Media.
10. Google+ Hangouts
Favored with the speed, stability, servers and other features that only Google can boost, so striking that even Barack Obama himself used to communicate in a never before seen virtual meeting with its citizens, the Google Hangouts conference call puts at our disposal (Free of charge) videoconferencing with dozens of contacts, the ability to work collaboratively with Google Docs or sharing the screen, share files and notes, chat, connect from your mobile applications, etc. It's best to turn on Hangouts with Extras, similar to Labs for Gmail.