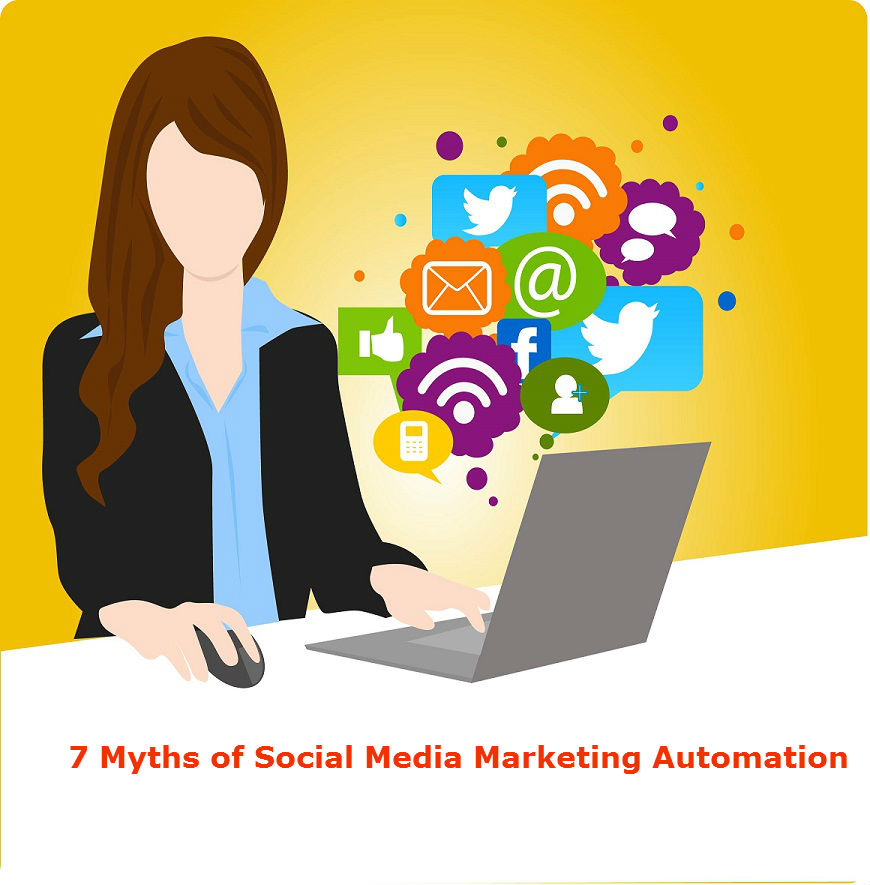 7 Myths Of Social Media Marketing Automation
One can't stay alienated from social media marketing automation. Everyday you get lot of negative vibes from this activity, esp. when your Twitter direct messages backfire and snowball into a debate of a higher scale. So is there a need to automate your social media messaging? Or having a human doing it will serve the purpose?
Here the whole problem lies in understanding the core of driving interactions on social media. We tend to attach the term 'marketing' with every effort in that space and miss a key insight that the aim should revolve around engagement rather than getting instant results with every tweet and message.
We can unanimously scream that "marketing is all about results". However, let's give it a thought that how big the numbers should be, and what if we focus more on listening to our audience. Won't it yield good results? This a way to check how many like out marketing strategy and how many don't.
To extend this thought further, let's take a dive into the perceptions and misconceptions of social media marketing automation. Let's see whether the automated direct messages on Twitter and LinkedIN drown or save us.
It's generally wicked
To bust the first myth, you have to stop perceiving Marketing Automation as an evil force as there are lot of good things attached to this tool. It saves a lot of time from a marketer's busy schedule and helps him/her get close to the customer's needs. In this scenario, always ensure that you treat your customers with respect then they revert the same with lot of referrals for your brand. When the accounts grow big it's altogether tedious to monitor the communication, so the right marketing automation tool is what that makes a big difference.
More is constantly great
A good practice is not to bombard your followers with too much of information. Keep it short and concise. People get bogged when they see too much of automated messaging coming from your Twitter handle with a certain hashtag. The same holds true for other social media channels such as Facebook and LinkedIN. Just to fill the space with certain number of tweets, don't make them repetitive with something said already to the customer.
Less makes for a better strategy
Obviously, social media is social, and you ought to incorporate your identity and some discussion into your social media marketing strategy. Be that as it may, to go for doing as few automation as could be expected under the circumstances does not seem like the best procedure. The best and most productive technique for achieving your promoting objectives may well be to automate a few things in your social media exercises to free some of your time for extra measures.
Say no for certain automation
There are few automation techniques that you don't want to use. Case in point, I could never like to post the tweets on my Facebook timeline. I see a significant number of individuals do it and more often than not it looks revolting and won't initiate any response on the post on Facebook.
Nonetheless, I won't guarantee that I know each circumstance that could emerge, and there may well be some essential contentions for specific circumstances where the association in the middle of Facebook and Twitter may work.
Leave the Marketing Automation on auto pilot
Marketing Automation is like a double-edged sword. You have to use it wisely and carefully. If you leave it on auto pilot mode and go for a long stroll, it may mar your business than make it. There's nothing like a one size fits all strategy and what worked in olden days may be hold sense in current times. So, a proper alignment of Marketing automation to fulfill the present needs should be the need of the hour. Even your automation has to get the same time and importance as your marketing efforts.
Get success in short time
No automation tool can get you assured results. They simply aid in your marketing efforts. Don't use it to spam your customers. Just for the reason that automation helps you to send more messages should not push you to churn more emails and blast them all at a time. Also keep a tab on the authenticity of the messages that float around daily. In the end, you should not be fixing the broken ends. Lastly, don't lose your customers.
Nothing is personal
Even if you use automation or delegate the social media activity to a third party, everyone has to speak your voice and echo your thoughts in the communication. One thing that's for sure is it's you all over. If you run an account on auto pilot mode, that's' your choice and Marketing Automation simply does its job. Here the crucial factor is 'you' who is setting the commands.
Before I close…
Many of us might have blamed Marketing automation as a sinister force for not yielding great results and causing a disconnect with the audience. However, the startling revelation here is that it's following the instructions set by you and the onus is on you to accept the fault on rolling the blame over it. Marketing Automation is a tool that can make you a social media rockstar only when you understand it to the fullest and use it to the optimum. Let's pull up the socks to make the most of it.