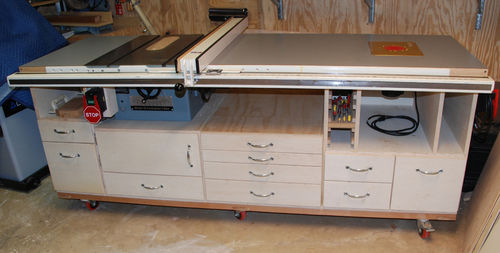 Contractor vs Cabinet Table Saws
A table saw is an essential piece of equipment in any woodwork for a professional, as well as for many DIY enthusiasts and hobbyists. It is versatile, offers power, and speed, and can be used for ripping, cross-cuts, creating joints, angled cuts and many other tasks. When it comes to the perfect workhorse of any woodworking workshop, the table saw is the tool to have.
There are many types of table saws available, and two of the most used are contractor saws and cabinet saws. They are both very popular, and have both proven their usefulness and versatility. However, each type is made for slightly different type of work and has different characteristics. One must consider many factors before deciding on a type of table saw, and many users do wonder which type of table saw they should buy.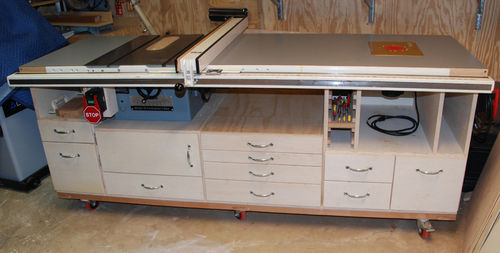 Contractor table saws are more lightweight and portable, usually by a set of wheels. They are cheaper than cabinet ones, have less power (1-2 hp, instead of 3-5 hp in case of the cabinet table saws), and have an open built, with the engine motor hanging off at the back of the machine. The greatest advantages of these machines are their cost, and the fact that they can be powered by an ordinary socket, whereas a cabinet saw will require a heavy-duty circle to be installed. The open construction of the contractor saws may generate problems with dust collection and in time the dust collected on the motor, and other parts may create issues. Good maintenance should remove these problems.
Because they are more light-weight, contractor saws generate more vibration and may be less stable as compared to cabinet saws, but are still more than capable of producing high-quality results when used correctly.
The cabinet table saws are heavier and more powerful. These use more cast iron and steel, which reduces vibration and noise, thus allowing better quality cuts. They have an enclosed built, hence the name; therefore, the accumulation of sawdust does not pose a problem. The trunions(mechanisms for adjusting the blade) are attached to the cabinet, instead of an iron table, making for more accuracy, versatility and more reliable cuts. Cabinet table saws allow for more features to be added and more heavy-duty work to be performed.  Any professional will attest that they are generally a better option than contractor type saws, when it comes to top-quality items or large amount of heavy-duty work. That is not to say, that contractor saws are the inferior product, quite the opposite. They are just as reliable, and can produce just as good results. They are cheaper, easier to install and use less power. At the end of the day, a cabinet table saw, whilst better quality is not needed by an average user, it is better off for professional and heavy-duty use. A contractor stable saw will suffice for any DIY enthusiast, hobbyist or someone who only needs it occasionally, as well as people who want quality on a budget. There are no better or worse types of table saws; only ones suited for different tasks and types of users.