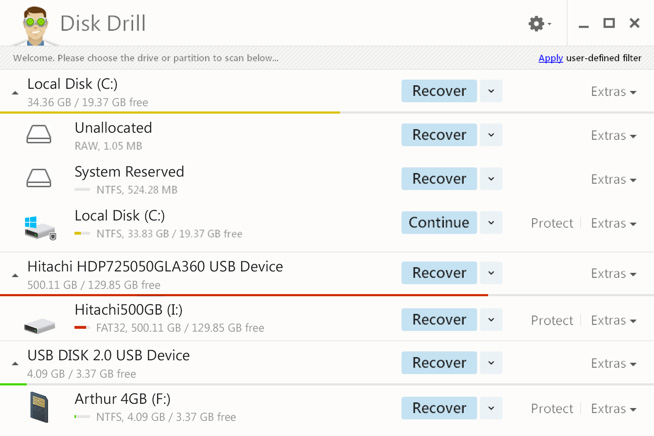 Free SD Card Data Recovery Software – Disk Drill
We all save important image and document files in storage cards. But at times despite all care, these files get deleted. Most of us start panicking in such situations, but not those who are aware of sd card recovery software. These software tools allow you to recover digital images, audio and video files as well as text documents and save them back to your system. Disk Drill is one of the best and free data recovery software tools you can use to recover the deleted information.
Disk Drill for Windows
Disk Drill makes recovery of lost and deleted files as easy and simple as possible. You do not need to know any technical language to use this software. It extends an easy to use interface that lets almost anyone to work with it. Disk Drill's ability to restore the deleted files on any device virtually makes it standout among all the other recovery tools. It can recover files from:
Laptops and desktop computers
USB flash drives
Digital cameras
All memory cards
All hard drives
Devices in mass storage mode

Works with all File Systems
Disk Drill works with all file types such as NTFS, EXT, FAT32, ExFAT and HFS+ etc. In addition to SD card data recovery and CF card recovery, you can also reinstate erased system files on a hard drive, an external device and even on a USB device. This makes Disk Drill a smart data recovery tool, recovering up to 500 MB data for free. Sign up for a pro or enterprise version to restore files to a higher capacity. The pro version is priced at $49, whereas Enterprise edition costs $299.
Best Recovery Algorithms
Disk Drill is programmed with the best memory recovery algorithms to work in even the most challenging data loss situations. The program can even reinstate the entire hard drive.
Pause and Resume Whenever Required
The best part is that you can always pause and resume the software during the data recovery process when required.  It has three main recovery options: Quick Scan, Deep Scan and Undelete Protected Data. The Quick scan helps recovering the files just removed from the system. Deep scan supports to reinstate the old deleted files. The deep scan works with file signatures to recognize the entire file structure and undelete it in a quick and efficient way. The Undelete protected data assists users to create data backups protecting files from getting lost in the first place. The information is saved in the recovery vault to offer an instant recovery in case of any accidental situation.
Do not waste time experimenting with all the other software recovery tools. Opt for Disk Drill to recover any piece of information in a fun and easy way!