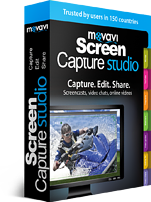 Movavi Screen Capture Studio Review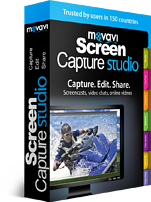 If you sometimes wish you could create attractive and professional-looking screen capture videos for your own personal use or as part of your work – there's really no reason you can't. While it is true that conventionally creating great-looking videos has been fairly complicated and left to professionals, software like the Movavi Screen Capture Studio are positioned to bridge that divide and make it more accessible.
By designing its software to be intuitive and easy to use, the Movavi Screen Capture Studio is engineered so that even someone with little or no experience can pick it up quickly. More importantly, it comes with all the features that are needed to not only record your video but also edit and enhance it so that it looks perfect.
Part of the reason why the Movavi Screen Capture Studio is so accessible is the fact that using its features requires actions that most people are familiar with. For example some features may simply be a case of 'dragging and dropping' what you need into the appropriate place, while others may require you to 'pull the edges' just like how you resize a window normally. Generally these are all actions most people are familiar with, and so using them should feel natural.
By relying heavily on such actions, the Movavi Screen Capture Studio is able to make features that would normally be complicated seem relatively simple to use. As such it can include powerful features in a manner that is accessible, and users will be able to:
Fully configure the recording settings when capturing video from your screen including the frame rate, recording area, audio source, and whether or not to capture keyboard and mouse actions.
Cut and combine video segments as required to get rid of unwanted footage, alter the sequence of a video, or even merge several videos together.
Insert customizable text that can be used as subtitles, captions, or even watermarks.
Enhance the video quality and fix common issues such as pixelated, shaky, or blurry video segments.
Add filters and special effects to transform the visual appearance of the video as well as its style.
Include more audio tracks to insert voiceovers, background music, or even sound effects.
As you can see, its features really do go far above and beyond what you may expect from screen capture software. Suffice to say the Movavi Screen Capture Studio is a comprehensive video production tool that will allow you to record, edit, enhance, and produce amazing videos if you're willing to give it a shot. It should only take you a matter of minutes to familiarize yourself with the features and once you do the only limit to what you can accomplish will be your imagination.