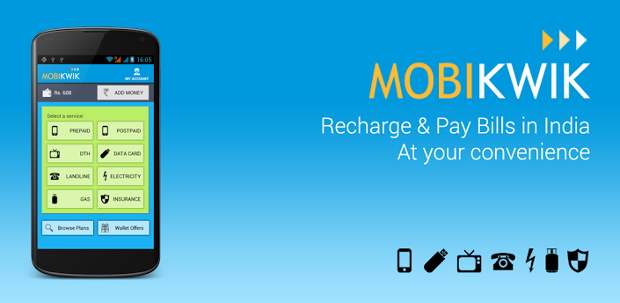 How MobiKwik Is Fast Becoming The Hub For Online Recharge?
Let's start by saying that gone are times when one would have to rush to local retailer to get a recharge. Today, with internet and the advent of smart-phones, simple online recharge is a matter of minutes. Whether it is about recharges for your mobile or payment of DTH and a mobile bill, one service that makes things simple for you is MobiKwik. Designed to be the perfect platform for your bill payments and recharges, the service has changed many dimensions for customers in India.
Save your Time with Online Recharges
MobiKwik is among the few websites that ensures that your recharges are done as swifter as possible. So, unlike moving between multiple merchants, payment gateways and banks, you actually have the option of creating your very own wallet and making payments in just one click. Given the fact that payment gateways needs care to be used, mainly because you need to enter your confidential and personal bank/card related details every single time. As such, MobiKwik makes things simple by giving the option to add cash to your online wallet. Just refill the wallet once, and you are ready to go.
Unparalleled Security
MobiKwik has made it possible to eliminate the risks of online payments, no matter whether it is a small BSNL online recharge or even the payment of your postpaid bills. Adding to this, the money in the wallet can also be used to buy products on many of the partner sites. One also needs to cheer this particular service provider for making the process of recharging easy even on handheld devices. No matter whether you are using a basic smartphone app or an iPad, the experience of using their app remains the same.
Great Merchant Convenience
Ever since the company launched, MobiKwik has continuously partnered with some of the most known and coveted names in online business. So, if you are looking to shopping on sites like Naaptol, Purplle, Starsports, Redbus, and Book My Show, you can use the MobiKwik wallet and get the best discounts. These websites have been working with MobiKwik as their partner, so there are exciting benefits, including cash-backs. For the cash backs, you just need to pay for the products on any of the shopping sites mentioned on their website by using the wallet. The cash-back amount or percent of the deal will be credited back to you.
With so much on offer, who needs to think of locally done recharges anymore? In fact, with MobiKwik, the hassles of online recharges and shopping only get reduced. The company only promised to get better with their services in days to come, and it won't be much of a surprise to find more uses of the MobiKwik wallet, which easily is a simple and effortless way to transact. Did we just forget to mention that you can even pay your electricity, insurance and gas bills with MobiKwik? Well, this is certainly a no-hassle service by all means that deserves to be applauded.