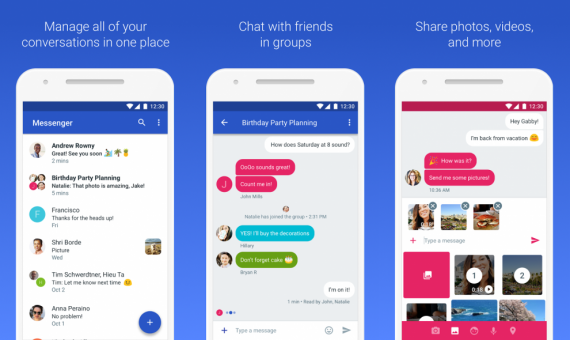 RCS Messaging
RCS industry initiative was formed in 2007 by a group of industry promoters. In 2008 the GSM Association officially became the project 'home' of RCS and an RCS steering committee was established by the organisation. It is aiming to replacing SMS messaging with a text-message system that is richer and more interactive to the user.
Fast-forward 7 years and Google first announced the launch of RCS (Rich Communication Service) last year, having signed agreements with numerous operators and mobile device manufactures. This year it is focusing on brands and businesses, launching an Early Access Program, which will allow businesses to learn and build the technology. RCS offers businesses an upgraded alternative to traditional SMS messaging. In the past 12 months, since Google launched an initiative to establish universal profile based on RCS, more carriers have gotten on board. In Google's latest RCS newsletter, they stated that 'RCS momentum is getting noticed… with many more carriers launching later this year'.
RCS is part of the new Advanced Messaging standard designed to greatly improve messaging functionality that comes installed on mobile devices. Along with SMS messaging, RCS will allow for higher quality picture messaging, group chats, location sharing, and video calls. RCS is looking to go beyond the capabilities in so many of today's OTT apps. Unlike SMS, new technologies can be integrated with contact apps to see who else supports the service. What this means for business is that you can now use SMS messaging as a more interactive tool to engage with your customers.
In this digital age, customers have come to expect services and brand engagement at any hour, and in a way that the customer prefers, whether that's SMS or RCS messaging.RCS give brands the opportunity to interact with their customers using mobile messaging. It is going to bring enhanced features to standard messaging experience across mobile devices, this improved business messaging will help businesses engage with their customers and build deeper relationships through which greater business relationships can be achieved.
Why RCS:
RCS supports multiple message formats, allowing businesses to send not just text but videos, animations, and images all in one message.
Unlike SMS, RCS messages return read receipts, meaning businesses can measure the effectiveness of the communications.
In terms of messaging, we have yet to see something that has the same potential for customer interaction and engagement as RCS messaging. RCS allows for a more interactive call to action. For example, customer surveys, and real-time updates. Customer engagement equals better customer relationships
Sendmodewill be launching RCS messaging in the next few months. Visit www.sendmode.co.uk or call 020 3411 4464 for more information.
Saoirse
Business Development