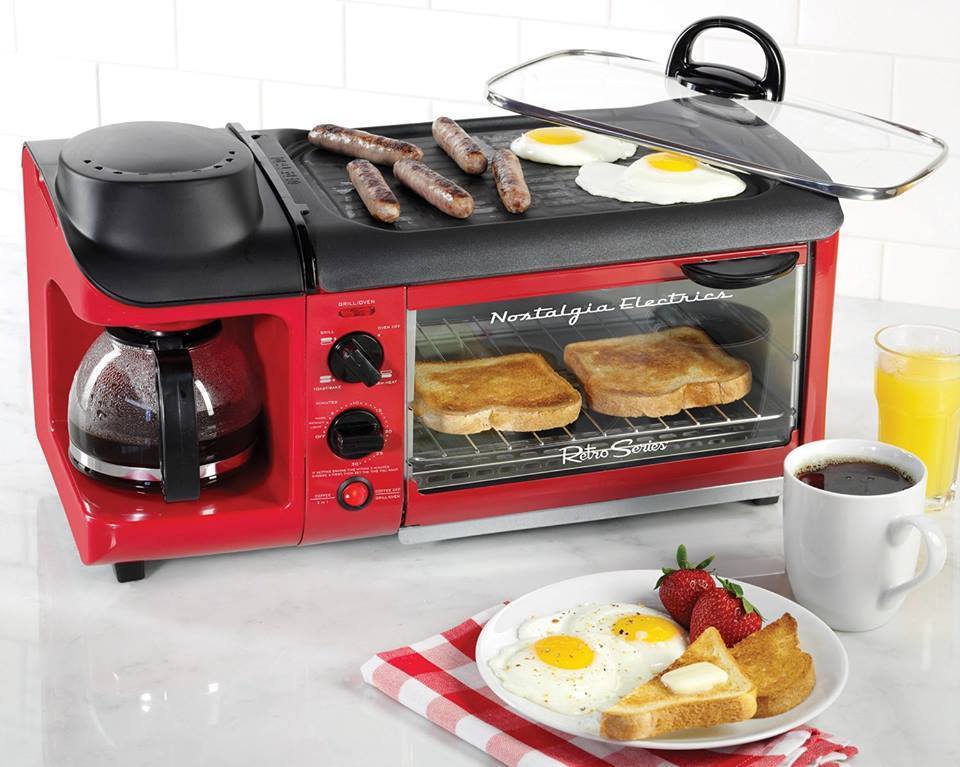 Save Time With These 4 Best Kitchen Gadgets!
The world is possessed by cutting down and saving on time. It's because we have so much on our minds and so much to do. Being productive is the way to go! When it comes to cooking or attending to chores in the kitchen, why should it take most of our time?
Okay, there shouldn't be any compromises on preparing food and I'm not suggesting anything of the sort. Just, think if you could increase the efficacy of the overall process. While being in the kitchen it becomes hectic and we have compiled a list of gadgets only for you. Read on to find out:
1.     Food Processor
Needs no introduction, its rapport as any cook's best bud far exceeds its popularity. This machine with its blades can be used for shredding cheese, chopping veggies to making mayonnaise, peanut butter or whipped cream in minutes.
A food processor can be used to prepare other awesome foods as well and hence is registered as one of the essential gadgets you can find in a kitchen. You can very easily wash its blades after you're done and set it up for next round of mixing and slicing.
Be sure to purchase a model which is robust in design since the repetitive use of the gadget over the years will leave it in a shabby condition. You don't want that. There are a lot of such brands so choose carefully as this will be long term investment saving both time and money.
2.     Rice Cooker
Another must-have gadget for kitchen use, an electric rice cooker – wait till I tell you about it. Rice is an economical item and hence consumed frequently in homes. It is bought in large quantities ('large' here is relative). Rice cooker is one of the most effective means of cooking rice in a picture perfect manner.
Do you remember when you boiled your rice over or when you cooked it for way too long that put a burn on them? Sometimes completely dry without any moisture left, sounds familiar? In comes rice cooker and relieves of all such troubles. How?
Rice cooker has a marking of the measurements on the container. Therefore, you can say bye-bye to conjecture. Let me explain; you fill the pot with X number of rice scoops up to a certain Y level. Cover it with the lid and hit "cook". Your work is done here!
You can also enjoy preparing yummy breakfast with a rice cooker at your disposal such as oatmeal (I personally enjoy it very much). There are a number of styles you can prepare oatmeal to your liking. Throw in the desired ingredients and set the timer to say, 20 minutes and go hop into quick shower
Meanwhile, you get ready for work/school it will signal you when it's time to consume your wholesome morning meal. Again, it's recommended to buy a durable one. You're gonna want it for a longer while.
3.     Juicer/Blender
If you own a juicer put it to use, like pronto! With juicers by your side, you can squeeze them fresh fruit juices, in addition to extracting vegetable juices. Hand squeeze can get you only so far, but with juicer maximum juice possible. It steers clear of any waste pulp and seeds present, bringing ya only pure fruit juice.
Blender, on the other hand, can come in handy as well. And as the name implies it can be utilized for preparing smoothies and mixed cocktails (frozen fruit + juice).
4.     Stainless Steel Grater (4-Sided)
Another time-saving gadget for speedy cheese grating and vegetables; from carrots to radishes, potatoes etc. As opposed to chopping with a knife, the grating is quicker. Although a bit pricey, this gadget can do wonder for you in the long run. Consider it a one-time investment. An excellent grater will leave you with the finest side of the grating instead of a powdered mess.
The above-listed gadgets are some of the best to save you your valuable time as the cook of your household. You can now even catch a breath in being away from the kitchen. You're welcome.
Author Bio:
Katey Martin is a housewife and a mother of two boys. She is a foodie and loves to blog. Being a blogging geek, she finds it interesting to share her culinary experiences to the readers. You can find her on website named UK Essay Help and Twitter, Facebook, and Google+.