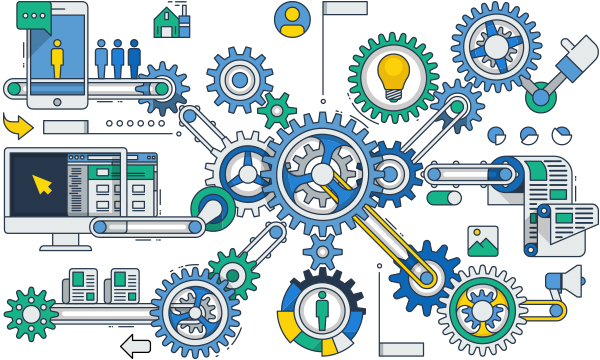 5 Points To Help Make The Decision To Build or Buy
So, you have read all the articles, listened to vendor pitches and conducted team meetings. But still you are unsure on if you should or you can bring your company into the world of Robotic Process Automation(RPA). RPA is no doubt the hottest topic in the market that is being used widely in various industries. The important decision you have to take is to make up your mind whether you should build it in house or buy it from an outside company.
A complex question for sure! Though many companies would be delighted with this fact only that they have chosen the method of automation deployment, the companies that do know how RPA exactly functions, knows it takes a lot more than simply plugging a bot into your workflow. So, how you decide whether to build or to buy?
You would need to think of not only short term or long term but both and from short term to long term goals when making this decision, take a look:
1.Basic knowledge of RPA
No matter which option you go for either to build or buy, employees need to have a baseline understanding of RPA, especially those who will be interacting with automation robots. This knowledge involves knowing about the why, how and in what way the business operations will be operated. Failure to assist your employees in garnering this information will hamper your automation tasks and may develop a sense of dysfunction within the organization.
2.Automation Planning
Planning for RPA solution to extract , sort or recollect data is just not enough. This is a very basic and entry level thing. You need to have a holistic understanding of how exactly automation will integrate into your existing workforce. Before deciding to build or buy, having an understanding of what, why, when and how is critical. Know about your ROI expectations, KPI and business outcomes that you desire to have.
3.Transformation Strategy
Of course RPA is not about extracting and moving data. The RPA transformation that you are going to have should be strategic and integral to your business. RPA can bring transformation in your business in various ways that will affect each organization differently. So, asses you key drivers, if it is better regulatory compliance, quality improvement or customer and employee satisfaction.
4.Building Capacity
Before making the decision, you need to consider the personnel, resources and other investments that are required to administer and sustain RPA. Find answer to the questions like: Do you have the financial leverage to work with a vendor? Can your IT department integrate RPA seamlessly? Or does your employees have the time and facility to learn about this solution?
5.Maintenance and Improvement
After getting the bots deployed, you would have to ensure that they are consistently maintained. You need to have a plan regarding its continuous improvement. It would require for you to interface with the your IT team and bring changes in the processes in order to ensure that they are being utilized and maintained regularly.
So, when making the decision to build this automation solution in house or to buy it from an outside vendor, make sure you take all the above categories into consideration. However, the best solution is to call for professionals and experts for a smoother journey and better results.