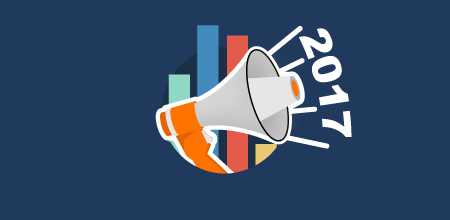 6 Fantastic Web Trends To Watch Out In 2017!
By now, web designing has evolved to a great extent that it has become some of the hottest occupations in the market. Anywhere you look; there are several thousands of designs that are trending on social media and other sites. There is no shortage of talented artists on earth.
Tech and web companies are always innovating and showing no signs of stopping anytime soon. Some trends last longer than the other, but that's the way it is with consumer behavior. There is plenty to trend about, like fashion, movies, news, gaming, sports, and lots more.
So right now, let us take a look at some of the trends that will get the biggest buzz in 2017.
Using Gifs To Draw Attention
The GIFs are short, sweet and right on the mark. That is if you don't abuse or overuse them. It could seriously put a dent to your website's user experience. But if you use it the right way, then you can highlight all of the important aspects. This will help your site truly shine in the eyes of your visitors without boring them.
We would recommend that you use these tiny pieces of animation on specific elements to help your content stand out more, like sales pop-ups, best-selling products and more. Parallax effects will give you that contemporary edge to get you in the cool kid crowd.
Layouts That Allow Your Content To Shine
Renowned Hermann Zapf once said that the arrangement of design elements within a given structure should give users the ability to focus on the message, without slowing down the speed of their reading. In other words, people visit the site of companies specifically for the content.
The content can be brief or an hour's worth of a look, but as long as it is intuitive, engaging and efficient, then you can't go wrong.

More Companies To Use A Mobile-First Approach
The main aim of this step is to create user interest from smartphone screens before they move all the way up to the chunks over at the main website. The approach isn't new as it has been around for a couple of years now. But the idea is to have users easily browse through sites and deliver their content efficiently.
The reason why companies are capitalizing on this concept so much now is to fit their core content in and get the point across. In this case, smartphone screens provide greater results.
Micro-Mini Interactions
Since 2015, the concept of micro-interaction captured the attention of web designers. It will allow them to make user interfaces more appealing and approachable for their users. There are apps and services that are becoming more detailed and gritty, which makes the need for micro-interactions all the more necessary.
It would be nice to break down individual interactions further down to lessen the stress and monotonous tone.
Interactive Web Storytelling
Your site should do more than just look pretty; it should tell a riveting story. The following are just a handful of the finer tools that will help you tell a fascinating story about your brand:
Videos: Short videos that deliver the message across in a matter of seconds is just what every smart business needs. The demand for these has been plenty. 2017 looks to be the year an even bigger year for videos. By 2018, videos will amount to 79% of consumer internet traffic.
Chatbots: Chatbots are being experimented with by web designers to achieve a more organic and interactional interface between the user and the website.
More SVGS
SVGs are short for Scalable vector graphics. It presents a lot more advantages for web designers and developers than traditional formats such as GIF, PNG, and JPG. The advantages come in the format itself, which is scalable and vector. It simply means to imply that SVGs will look great on any screen or any device.
Author Bio: Kendall Jenner is a Pro Graphic Designer and Web Developer. As an expert academic writer, she also offers dissertation writing for students. She made his blogging debut 5 years ago and has written plenty of articles on graphic design, web design trends, and web development.