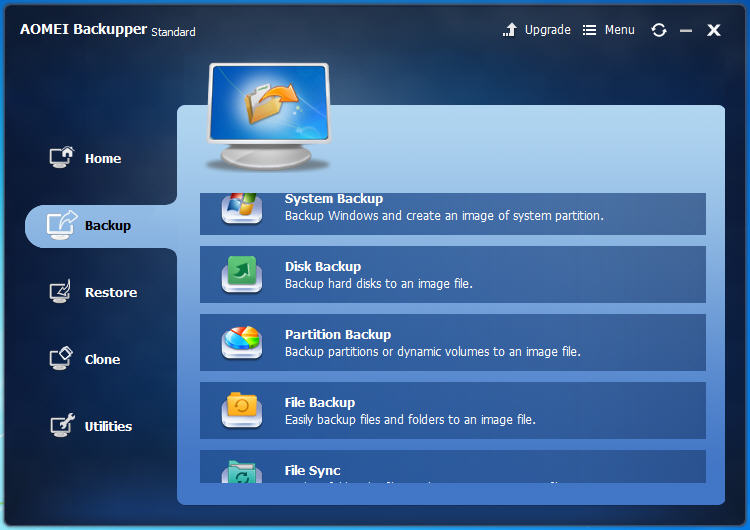 Backup Your Data With AOMEI Backupper Standard
From viruses and bugs, to hardware failure or simple human error, there are many potential dangers waiting to trash your files. And it would be a real disaster if the worst happens that you lose personal photos, your family videos, favorite music, and important financial documents etc. So it's a very good idea to back up your PC on a regular basis, and with the right software you can figured out this problem without any effort. You may not have to spend anything, either, because there are some great free backup and disk cloning tools around for Windows users. AOMEI Backupper Standard is such one freeware that ensure the security of all the information on your computer. It can back up the operating system and all of your important data.
As a free Windows backup software, AOMEI Backupper Standard supports almost all popular Windows Operating Systems, including Windows Vista, XP, Windows 7/8/8.1 as well as the latest Windows 10, this freeware is supported by both, 32-bit and 64-bit operating systems. This freeware offers basic and advanced features to ensure the safety of your system and data. AOMEI Backupper 6.0 is the latest version of the software and comes with simple user interface with ease-to-use features for smooth backup.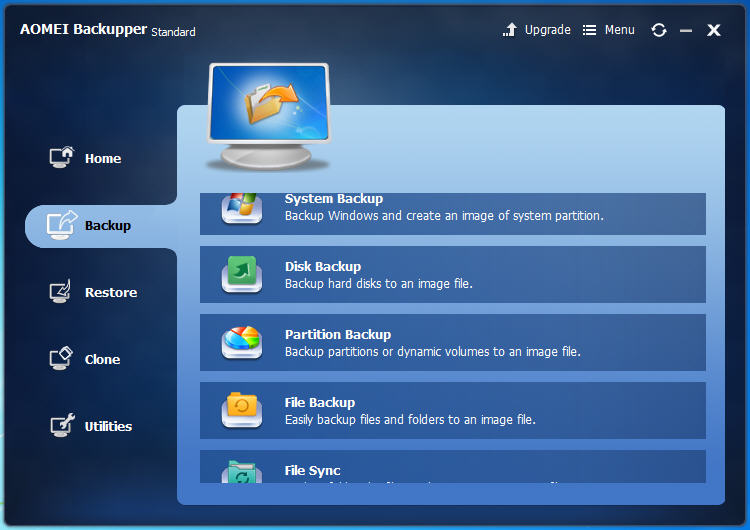 System Backup
Possibly one of the best features ever, backup the system settings, Windows settings, Windows boot-up files, and many other things. Full system protection allows you to easily back up and recover your entire operating system when disaster happens.
Partition and Disk Backup
You can backup your entire hard disk drives, including internal disk, external disk, USB flash drive and other storage devices that can be recognized by Windows. Or just backup one or more specified partitions or dynamic volumes to a compressed image file.
File and Folder Backup
It basically makes a copy of files and is suitable for securing useful documents or data. File-level backup allows you to selectively back up specific files, folders or file types, including network shared files.
AOMEI also offers different ways for backing up your data. For instance:
Automatic/Schedule Backup
You can schedule the software to back-up everything, or certain parts of the system every day, week or month.
Incremental & Differential Backup
Incremental backup means only back up changes made since the last backup, while differential backup means only back up changes made since the last full backup, both two backup ways saving time and storage space.
Besides, AOMEI's software can also backup in multiple different locations, thus ensuring that you do not need worry about storage. The feature of file sync enables you synchronize files and folders automatically with a schedule to local disks, external hard drives, removable USB flash drives, NAS or network shared folders.
Different versions of AOMEI Backupper such as Standard, Professional, Server and Technician with different pricing and features are available to cater to different markets. Free Standard Edition of AOMEI Backupper can satisfy most common users' needs. Yet, if you are a technician, you can buy AOMEI Backupper Technician and use it to provide charged technical services to your own clients; if you need do Windows sever backup, you can purchase its Server Edition!
To wrap-up, AOMEI Backupper Standard is a user-friendly backup utility that comes with a full set of powerful tools to help you keep backups. It imposes a high standard for free backup solutions. The options available for creating a backup file are impressive and comparable to what paid products offer. Its clear and straightforward interface and easy-to-use feature make it deserved as the simplest free PC backup software.