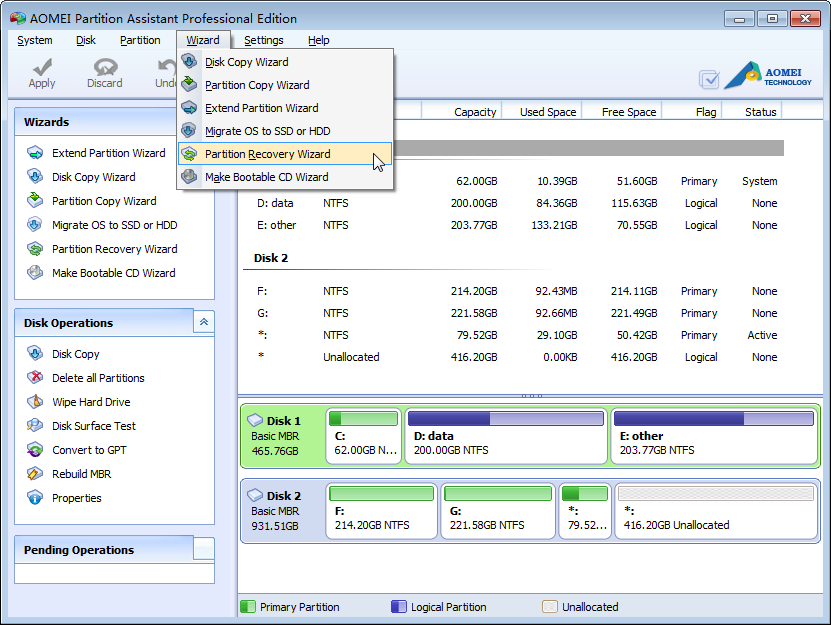 AOMEI Partition Assistant Standard 6.0 Review
When we hear about a Partition Software, then most often than not we feel that it is all the same and we hesitate to try out something new. There is another reason why most of us stick to the tried and tested software mostly and that is we are afraid that if we are not able to install the software properly or run it accordingly, then we might end up losing all the information in our system. But, when AOMEI came along, things were different. It was easy to use and the interface is quite simple and self explanatory too. The following will show you some most useful features.
Resize Partitions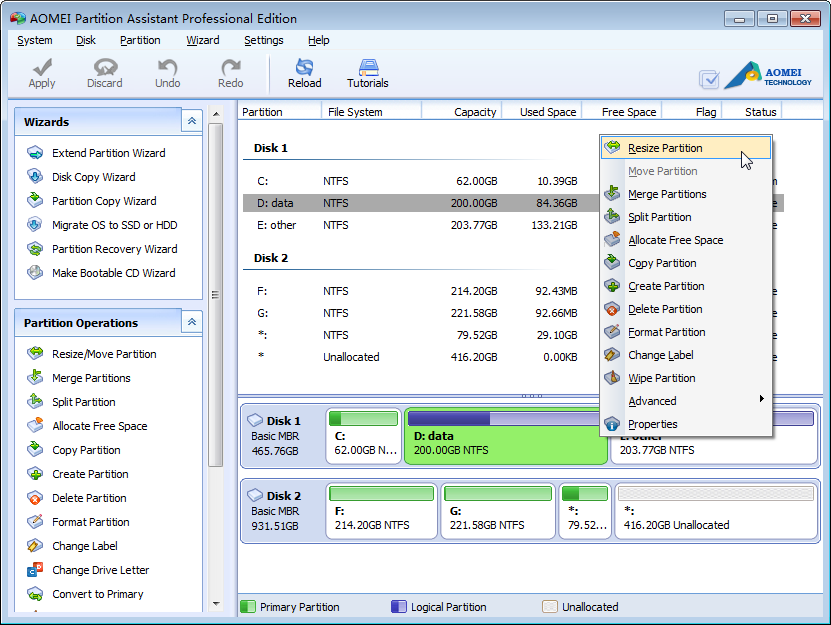 AOMEI Partition Assistant offers you to quickly resize partition without any data losing. You can move partitions to another drive to free up space on your SSD. You can also resize partitions in your computer, for instance, shrink Windows 10 volume and increase the size of your documents partition. Did you accidently only make one partition instead of two? Then AOMEI Partition Assistant can help you as well with splitting partitions on your hard disk. You can also merge multiple partitions into one. As far as modifying partitions AOMEI gives you plenty of options, more options than you will ever use if you're not a computer repair professional.
Migrating OS
Migrating system partition or data partition to another storage device can be slow and painful process, but things can become deadly easy with this tool. AOMEI Partition Assistant brings a useful function named "Migrate OS to SSD or HDD Wizard", which is especially designed for users who want to quickly migrate operating system from old hard drive to a new one or SSD without reinstalling Windows operating system and applications.
Partition Recovery Wizard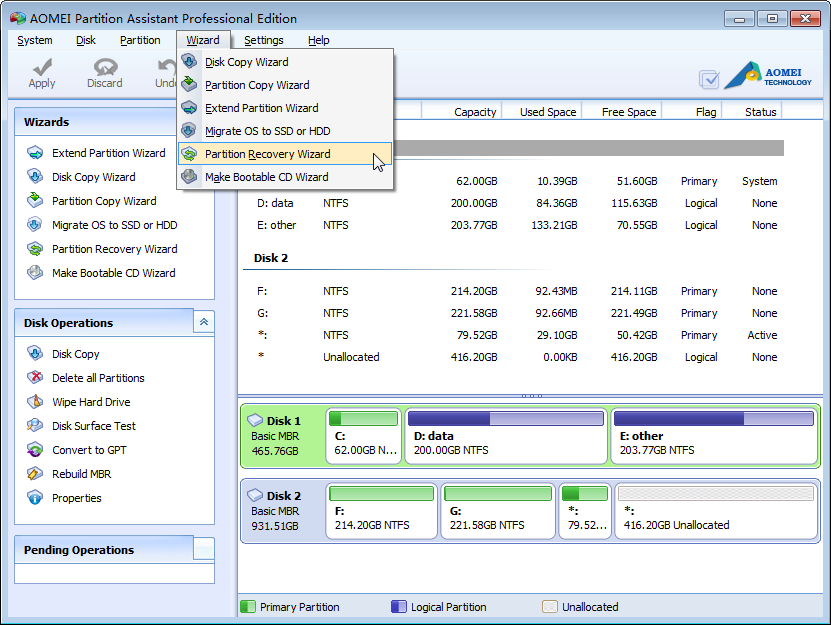 A great feature of AOMEI Partition Assistant is the possibility to restore deleted and lost partitions. Have you ever faced situations such as: inadvertently deleted partitions or destroyed the partitions by accident on hard disk? Then you can use AOMEI Partition Assistant to retrace back the deleted or lost partition easily. If your system partition is lost, which lead to OS is unable to boot, AOMEI's software supports to create a bootable CD (based on Windows PE core) to rescue your system.
Convert Data Disk between MBR and GPT
The AOMEI Partition Assistant Standard edition only support convert data disk between MBR and GPT. If you need convert system disk, then you need purchase the Professional Edition, the price is $49 with free lifetime upgrade service.
Easy to Use
The interface is clean, looks good and straightforward. The menu is easy to navigate, the features and tools are easy to find and the design overall just looks very good and clear. It is suitable for people who do not really have much computer experience. This free Partition Manager allows you to easily change the partition structure with help of easy-to-do wizards. For example, "Extend Partition Wizard" enables you to increase partition size to completely solve low disk space problem, or you can flexibly manage disk space with "Resize Partition", "Merge Partitions", "Spilt Partition" and "Copy Partition". You just need to follow a few clear step by step guides and success will be guaranteed.
Conclusion
Overall, AOMEI Partition Assistant Standard is one of those rare combinations of high on performance and totally free on price software with several useful and advanced features incorporated in it. If you are looking for a free partition software to mange your disks and partitions, give it a try.