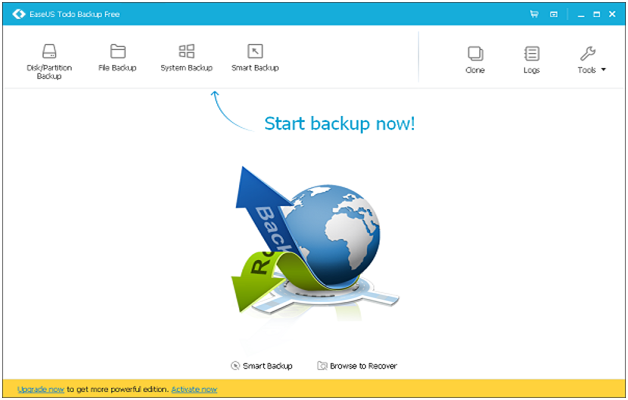 EaseUS Todo Backup Free
Losing your data without backing it up is a fearful tragedy, however there is a brilliant helpful software available for recovering your lost data i.e. EaseUS Data Recovery Wizard Free. Still owning a backup software is tremendously necessary for all kinds of computer and internet users nowadays. The best and most intuitive backup software, EaseUS Todo Backup Free, is here to solve all (yes, all) the backup related problems users could come across.
EaseUS' backup software is an all-rounder which serves a user with both kinds of backup requirement such as backing up files and documents as well as backing up the whole system or hard drive. Along with the backup features, this software offers great disk cloning features too. As EaseUS Todo Backup Free is rated as the best Windows 10 cloning software as well as Windows 10 users are now able to clone HDD to SDD in Windows 10 because it is fully Microsoft-compatible and works perfectly with Windows 10, 8.1, 8, 7, Vista and XP as well.
Core Benefits of EaseUS Todo Backup Free
Besides being totally free for personal usage, the software is leading the market with following benefits:
Easy to use: User friendly and intuitive interface accompanied with a wizard guiding you to perform backup & recovery step-by-step.
Safe and secure: Back up data where you want and everything is protected safely.
Multiple backup destinations: Users can store backups to any destination. It could be CD/DVD, HDD, external drive, iSCSI device or network destination like OneDrive, Google Drive or DropBox.
Backup management: Easily view, edit, update, or delete files on the backup and to save storage space it can automatically delete any out-of-date backup image.
Split up backups: Save backup on different storage devices by dividing backup image files in different sizes.
System migration: Quickly and safely migrate system to a SSD without changing or reinstalling operating system.
In addition to the above core benefits, the software also offers progressive cloning and recovery features which are important in any backup software but are offered in none but the EaseUS backup solution.
EaseUS Todo Backup, with its great interface, backing up an entire disk to image.
Why This Backup Software Is the Best Choice?
If you are looking for the best backup solution which gives you provides different kinds of backup possibilities, this is the software you need to get now. Jon L. Jacobi from PCWorld quoted the EaseUS Todo Backup Free software as, "The Best Free Backup Tool in Existence." The most amazing feature of this software is that you can back up all system settings and files in just one click. Here is how to do it. Moreover, once you have installed the software you can choose from different types of backup options which are explained below:
System backup: Easily backup your entire system including files, settings and almost everything you can imagine with full protection of data.
Fast disk backup: Disk-level disk imaging can back up an entire disk volume which makes the backup process even more fast and speedy.
File backup: With file-level backup you can specifically backup particular folders and files including network shared files at any destination you choose.
Hot backup: Incorporate with Microsoft Volume Shadow (VSS) to back up specific files and volumes without interrupting any files in use or current operations.
Sector-by-sector backup: Sector-by-sector backup allows you to store a 100% identical copy of your disk or volume, which also includes the unused space.
Full backup: A full backup assures to provide an exact same configuration (including OS, applications and files) of your PC upon restore.
Incremental backup: Incremental backup saves storages space and reduces time taken by backup as it enables you to only back up changes made since the last backup.
Schedule backup: Schedule backups by daily, monthly or any specific time period.
Cloud backup: Easily backup your file to cloud drives like Google Drive, OneDrive & Dropbox.
If you are a Windows user who needs to backup personal data frequently, here you can get this backup software for free and if you are an enterprise-level user, you can buy the advanced version here. Advanced version unlocks several business features like high-speed backups, system transfer to different PC, and allows business stage usage of this software.