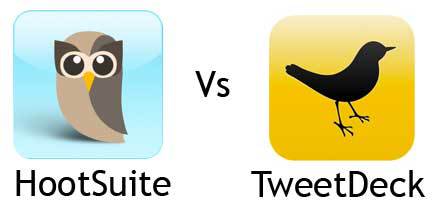 HootSuite VS. TweetDeck: A Comparative Analysis!
Among various social media management platforms, HootSuite and Tweet Deck rank in the top slot. Almost every business in the digital world uses these two powerful tools for streamlining their social media activities.
Nowadays, almost every business ensures a strong online presence on the social media platforms. However, it is never easy to promote your brand effectively on a social media platform. So if you have just stepped into the digital world with your startup and aiming to stay productive on social media, then you need to go with either of them. You cannot say confidently that one is much better than the other without evaluating TweetDeck and HootSuite thoroughly.
Investing on any social media management platform ensures better "Return on Investment (ROI)". Therefore, going with TweetDeck or HootSuite is a better idea as they are currently the top social media management tools.
Here we present a comparative analysis of these two popular social media platforms to help choose the right one according to needs of your business:
Interface
Both HootSuite and TweetDeck have a similar interface. They both use dashboards with different vertical columns which enable you to organize @mentions, messages, and timeline and so on. Additionally, you have the option of adding columns as many times as you want.
TweetDeck: It consists of a pop-up box which becomes visible at the top right corner of a screen every time you post an update. The button for post allows your right-hand column to become visible on the right side with every social media profile actively connected with TweetDeck. This allows you to publish your posts on various profiles at the same time.
HootSuite: HootSuite has a menu at the left side of the dashboard which enables you to adjust settings and use analytics and avail many other features. Compared to TweetDeck, HootSuite has no pop-up box to see live updates.
Social media Profile Integration
Both of Tweetdeck and Hootsuite differ from each other when it comes to social media profile integration. Unlike HootSuite, TweetDeck offers limited features. HootSuite users, however, can avail from the multiple functions of this feature.
TweetDeck: TweetDeck only connects with Twitter profiles. So you can connect various Twitter accounts to TweetDeck but not with Google+, Tumblr, and other platforms.
HootSuite: If you want to upgrade accounts other than Twitter and Facebook, HootSuite is a much better option. It consists of highly effective app directory which you can use for connecting to profiles such as Flickr, Tumblr, and various other profiles.
However, it is necessary to know that free account of HootSuite allows you to connect to just three profiles, get basic insights through analytics reporting and run message scheduling.
Social Media Management
When it comes to social media management, both HootSuite and TweetDeck offer range of options and features. You will find both of them competing equally in this domain.
TweetDeck: While you check out settings on TweetDeck, you'll find plenty of features. You can change the theme, manage column layout, select link shortener and create a mute feature for cleaning the timeline from unnecessary topics.
HootSuite: TweetDeck cannot surpass HootSuite when it comes to additional features. Just check out the menu of Hootsuite and you will find plenty of extra features which TweetDeck is unable to offer you. You can even have an in-depth analytics report of social interaction.
Besides, you can communicate with team members straightaway through HootSuite. If your budget allows, you should opt for its pro or business account as it provides you with more useful features and tools.
Author Bio
Joseph Carey is Social Media Marketer and a Pro Blogger. In addition, he is also a professional academic writer and renders his services for college essay help to students from all across the world.