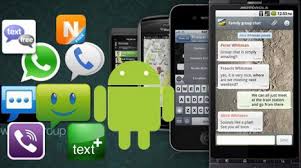 How To Spy On Android Phone For Free?
Don`t think of this as dare to go on a fictional mission like a want to be spy and create problem for all the wrong reasons. It is nothing like fighting on top of the train or going after bad guys and fighting with them like Bourne, or wearing amazing cloak and using fascinating gadgets like Ethan Hunt. These apps have little to do with James Bond as they are particularly used for appropriate reasons. These spy app for android are many in number.
Now it doesn't sound fun anymore? Regardless following is the list of spy apps for android free!
Mobile phone tracker as the free android spy
do you have someone you want or need to track? Like a salesperson or delivery person.  Say if you give mobile phone to one of employee as company for work purpose which has cell tracker on it. This free android spy app will notify every half hour you with person's location, when and where they have been. With the help of Wi-Fi/GPRS, Cell Tracker will automatically track the location of device holder. Click on View Now option to view the list of location the target device has visited.
Child tracker to spy on android phone
Parent`s finding out level of crime has increased into the locality and their children`s could be the victim of crime turns out to be the worst nightmare for them. Scary, right? Children tracker is a great solution for tracking to have, if you are not against the idea of tracking your child`s location. The only thing you have to do is install this spy on android phone, run and lock the app then you are ready to track the device online.
Earphone spy is also spy apps for android free
With the help of Ear spy you might seem to be busy listening to music but actually the truth is it amplifies the sound in your surrounding through device microphone all the way to your earphones. You can wear your earphones and hide it under your hoody, to pick up the conversation in the background leaving your phone uncovered. To enhance the listening condition in your surrounding this spy app for android free also has an equalizer.
Hidden camera on mobile
Without having a hidden camera app the spy list is not complete. Switch it on then click on the black screen and then quickly click a picture, when no one else is watching. Also video can be recorded on it. Once you start the video mode, it will automatically record everything, and will stop recording once you stop it. This spy on android phone includes a different type of aspects keeping it very little so that it can be used easily.
Clever cam
With this clever cam you seem like you are doing something else. Select and adjust the background you want to show when you on the sneaky cam. Your background image can be anything, say a shot of music player or a browser. Click anywhere on the screen for clicking images, and you need not to worry about anyone catching you in the act.
Spy message for secrets
if you want to send a restricted information or important message to your colleagues or business partner but doesn't want it to be on your phone? Set a time duration for your message, when the duration is completed the message will be deleted without leaving a trace. Spy message helps you exchange messages or appointments which are secret, let that message get self deleted after a set time.
Secure  your contacts and keep your call activities protected with secret calls
This app is used t hide your phonebook contact icon so that no can see them, deleting of all the outgoing calls as well as incoming calls logs automatically so no one can trace them, even when they have your phone.