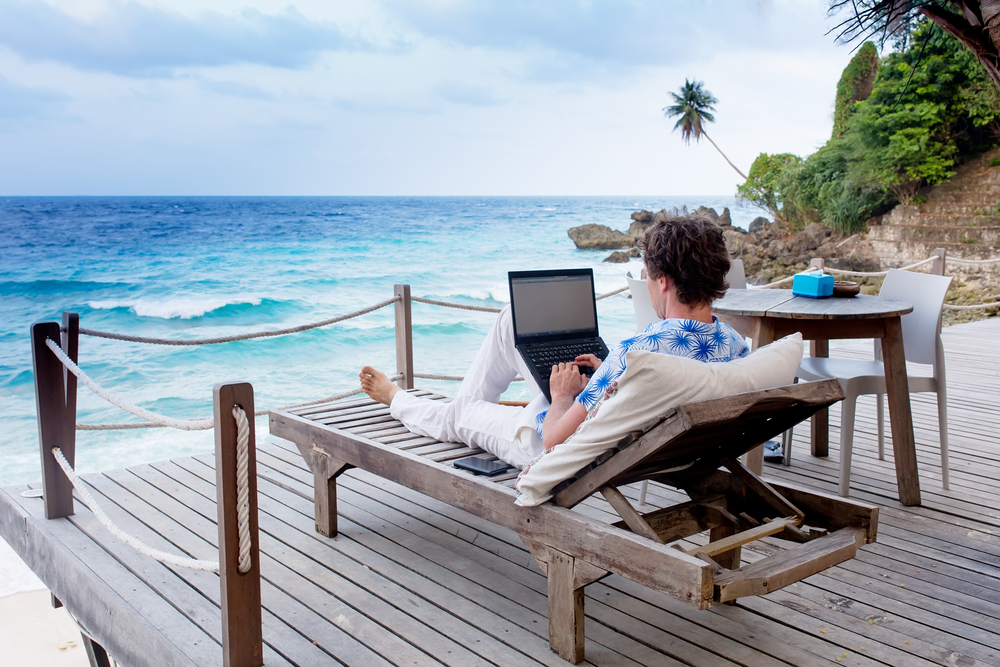 5 Best Gadgets For Digital Nomads!
We are all digital nomads to some extent. We want our technology to fit in our pocket when we travel. Our devices should sync together, and our data displayed whenever we want. While traveling extensively, digital nomads need and demand the smallest, lightest, and most efficient gadgets available.
These gadgets need to have maximum functionality while being small enough to slip into a backpack, briefcase, or pocket. Below are just a few such objects on the market today:
The Fellowes Privacy Filter Monitor
While working on a laptop at an airport or any other public place, you definitely don't want sensitive data out for the world to see. This privacy filter prevents anyone from seeing your screen unless they look at it directly. Which would be quite a hassle, seeing as you would be the one sitting in that position.
This screen thus enables you to work at a public place while remaining as private as if you were in the office or at home. No one has the right to view your personal data, even if it's just you browsing the Internet. Digital nomads can hence ward off rude, prying eyes with this filter and work in peace.
The Enerplex Packr Commuter Solar Powered Backpack
Digital nomads often find themselves running out of power on their smartphone, laptop, or other essential devices. With a solar-powered backpack, they can make sure they're never at a loss for a charging station.
The unique benefit of this backpack is that it is environmentally friendly. It is also much more easily rechargeable than a conventional power bank. You can easily work on beaches, in parks, and just about everywhere your work or your life takes you.
Using this backpack would also save you a decent amount of space and weight. A high-quality power bank is often a bit on the heavy side. With the backpack, you have a place to carry your stuff in along with the assurance of a recharging option.
The Bose QC35 Noise Canceling Headphones
Coffee shops, restaurants, and airports are places where a digital nomad has a lot of time to work, but not the environment. The Bose QuietComfort 35 Wireless Headphones provide the wearer with excellent noise cancellation. They allow you to listen to your favorite music and concentrate on your work even if you're in the noisiest train station.
Additionally, these headphones are very light, comfy, and hardy enough to pack for your travels. They won't be a pain to lug around, unlike several other headphones on the market.
The Skyroam Mobile Hotspot
Just like the rest of us in the modern world, Wi-Fi is one of the basic necessities for a digital nomad. The Skyroam Mobile Hotspot is a means to get a Wi-Fi connection just about anywhere in the world. Well, in over a hundred countries, at least.
Costing only eight dollars per day, a digital nomad can have unlimited Internet access, which we think is quite a steal. Plus, they can connect up to five devices at a time, so it would be just like sitting at home or in the office. Your smartphone, laptop, and tablet are connected; what more does one want?
This gadget work by having a virtual SIM card which connects the user to local carrier data wherever they travel. Hence, there is no worry about dwindling megabytes, changing process, or looking for local SIMs. Fast, secure, and reasonably-priced data is a digital nomad's treasure!
The Seagate Backup Plus Slim 1tb Portable External Hard Drive
Even the iCloud can let you down at times. Storage space is essential for a digital nomad, as they rarely have time to soft and delete. To back up your files in a reliable old-school manner, use this external hard drive on the go.
Wrapping Up…
Digital nomads are constantly on the go and may have to work in unconventional places. The little gadgets above are just a few of those which can make their lives much easier. Using these, one can set up a delightfully productive office space anywhere in the world.
Author Bio
Alicia Seagel is a Freelancer, Budding Entrepreneur, and a Blogger at Cheap Courseworks Agency. In her blog, she frequently reviews the latest technological gizmos and gadgets. She is a technology fetish and loves using hi-tech gadgets.