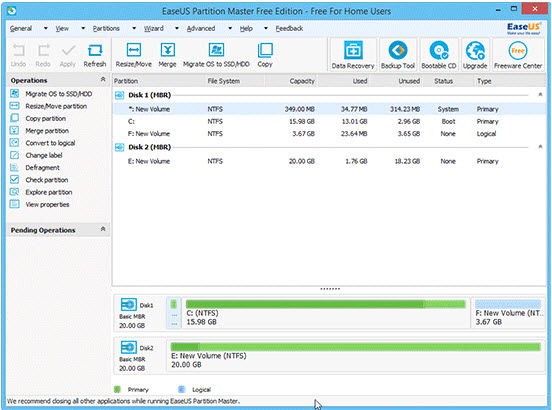 EaseUS Partition Master Better Than Windows 7 Partition Utility
Partitioning a hard drive is quite easy. To many people it's very difficult because they have had their drive partitioned from the vendor and never had to go through the process on their own. As a result, a fear grown in subconscious mind – 'what if I ruin the drive?' Ruining a hard drive is difficult, you may lose your data but bricking a whole drive by just trying to partition it – nope, doesn't sound much legit. However, to begin with disk partitioning a partition manager is absolutely required and our pick is the EaseUS Partition Master.  Windows 7 and later versions come with an effective partition utility built in, yet we wouldn't pick that. We have described why.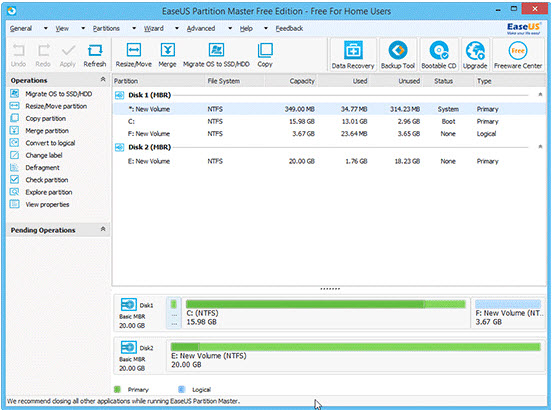 Windows 7 Built in Disk Management
Inside disk management, there is a partition utility and it comes built in with Windows 7. The same utility was available in few previous versions as well, but the one in Windows 7 happens to be the best one. However, comparing this partition magic Windows 7 with other utilities make us reach the conclusion – there are lack of features in the built in utility. For basic installation of Windows on a brand new hard drive the Disk Management in Windows 7 works just fine. But for advanced operations like defining partition table, managing different partition tables like MBR and GBP is not possible on Windows 7 Disk Management Utility. For full functionality, using a third party tool like EaseUS Partition Master is always recommended.
Feature Comparison
The first inability of Windows 7 Disk Management we have noticed was, merging partition with each other. Two adjacent partitions can't be merged using Windows 7 Disk Management but it was doable on the EaseUS Partition Master software. Resizing or moving partitions just like you want isn't possible on partition magic Windows 7, either. However, the Windows 7 tool supports working with dynamic volumes.
Though Windows 7 utility is a newer version than FAT disk format, yet the partition tool can't resize or extend a FAT partition, can do with NTFS though. Breaking all partitions, deleting all partitions, changing the scheme and hiding the labels – all these advanced tasks are on the 'impossible' list of Windows 7 disk management.
On the other hand, EaseUS Partition Master can do all of these.
Pricing
The basic version of EaseUS Partition Master is free. Being the free version, it is still open to all the basic features like partitioning a hard drive, merging or deleting partitions, MBR and GBP table support etc. are supported on the free version. The latter versions are paid, starting from $39.95 to $699. The basic difference is in the licenses, they range from one to many for personal use to business and service providing. The largest hard drive support for paid versions is 16 TB. The additional features are support for Windows Server Edition, unlimited usage capability, technical support from EaseUS etc.
Conclusion
Even the free version is capable of most tasks a home user would need. For further requirements, EaseUS Partition Master Professional is totally worth the investment.