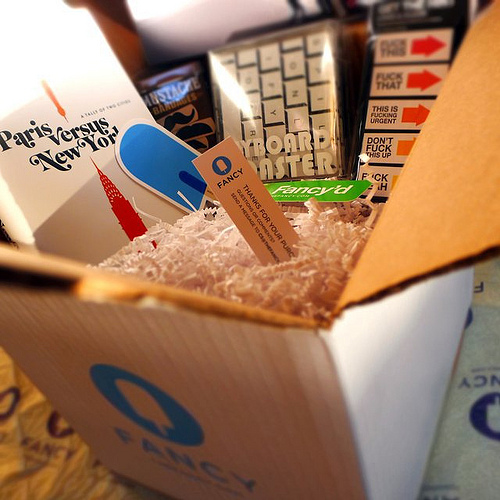 How To Start A Subscription Box Business
The subscription box market is rapidly growing, making now the optimal time to take your idea and run with it. Setting up a subscription box business isn't as hard as you may think and providing you have an audience for your idea and a good business plan, there's no reason why your box won't be a success. Here we've shared a few tips on how to start your subscription box business.
Decide on the Theme of your Subscription Box
The first thing you need to do is decide on the theme of your subscription box i.e. the type of products it is going to feature. For this, we recommend choosing something you are passionate about, as you will already have good product knowledge and ideas of how to reach the target audience. It will also be much more fun sourcing and selling products that you would actually buy and use yourself.
Source your Products
The next step is to start planning where you are going to source your subscription box products from and how you are going to cover their cost. If you are just starting out, it is likely that you are going to have to buy products in bulk for your subscription boxes, however as your business model grows; you may find that you will be able to source your products for free. Subscription boxes are fantastic marketing tools for brands, so you may find that some are willing to give you their products for free in return for the advertising and marketing benefits.
Get the Price Right
Getting your subscription box's price right is of key importance but unfortunately it won't be the easiest task. Price your subscription boxes to low and people will see the products as being cheap but price them too high and people won't part with their cash.
One of the best ways to work out your price is to work out how much everything is going to cost you (sourcing, packaging, shipping, labour etc.) and ensure the price of your boxes allows you to cover everything and still make a profit. You should also find out how much your competitors' are changing for their boxes to see if you are on the right lines.
Understand your Target Customer
The idea of subscription boxes is that they are supposed to appeal to and cater for a niche market. Try and market them to a mass audience and you'll find it difficult to generate the desired results (especially on a tight marketing budget). This is why it is essential that you identify who your target customer is, what they like and how they think.
Understanding your target customer and their lifestyle will be the key throughout the process, from sourcing your products and designing your subscription boxes to pricing and marketing them.
Sort Out Shipping and Handling
Seeing as your subscription boxes are going to be bought online and sent out to customers, you need to ensure your shipping and handling is on point. First you will need to research packaging and identify what is the best type and size for you to use (keeping costs in mind at all times). You then need to decide whether you are going to pack and ship your own boxes or outsource it to a third party.
How are you going to spread the word about your subscription boxes? We suggest getting reviews from top industry bloggers and key social media influencers.
Get Creative with your Marketing
Without a strong and effective marketing strategy it'll be difficult to get your subscription box business off the ground. Thanks to the internet, marketing subscription boxes is fairly easy and inexpensive; it's just about thinking where your target customers will be and how to reach them. For example, you will need to make sure that your subscription box brand has a presence on the social media websites that your target customers use. You will also need to identify key industry influencers (e.g. bloggers) who you can get reviews and mentions from in order to widen your marketing reach and increase sales.
Creating incentives will also generate interest in your subscription box and help to win customers' loyalty. For example, you could set up a referral programme so that subscribers get their next box free if someone signs up using their personalised code.
Conclusion
If you have a great idea for a subscription box business, don't let it pass you by because in the current market, you can almost guarantee that if you don't run with it, someone else will! Keep our tips in mind and come up with a strong business plan and you will be well on your way to start a subscription box business and make it a great success.